I've buildt a model of a Hydro boat in 1965 when i was 11 years old.
I've found a drawing in a Danish magasine called 'Hobby bladet'
buildt of balsa, approx. 20 cm long
with a Jetex 50 at top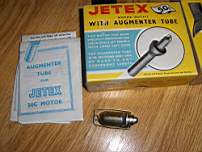 The Jetex 50 are still in my collection of old items.
The boat was very much like this one, at the picture.